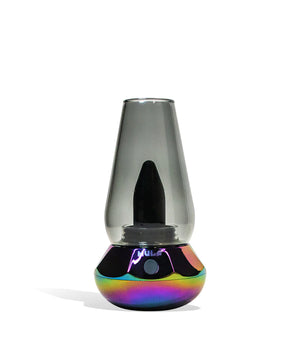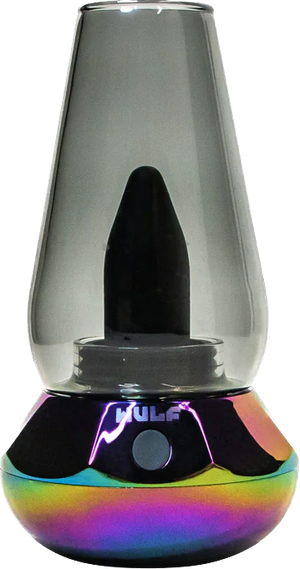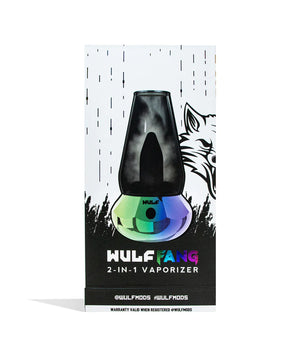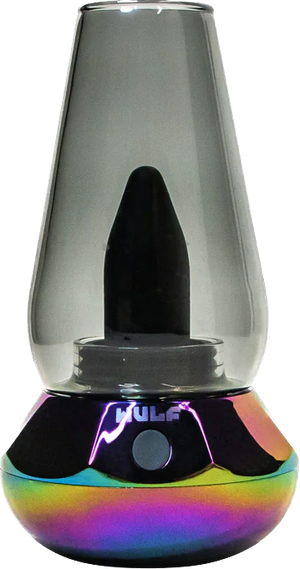 Matriarch
Electric 2-in-1 Vaporizer by WULF - Rainbow Color
UNLEASH YOUR INNER BEAST
Enhance your vaping experience with the Wulf Mods Fang 2-in-1! This device comes with a ceramic atomizer for wax concentrates and a 510-thread for oil cartridges, allowing you to enjoy both in one device. With a tinted glass bubbler, four voltage settings (2.5V, 3.0V, 3.5V, and 4.0V), an LED indicator, and one-touch operation, this vaporizer offers an easy-to-use and customizable experience. The device is powered by a 1600mAh battery and has a Type-C cable for quick charging.
HOW TO START:
Quickly press the power button five times to power the Wulf Fang on or off. Once it's on, press the power button three times to increase the temperature.
To use manual mode, hold the power button and release it when finished. Alternatively, activate auto mode by pressing the power button twice. To stop, simply press it once.
HOW TO LOAD CONCENTRATES:
Remove the glass bubbler from the battery to load your concentrates into the Wulf Fang. Then, screw the ceramic atomizer into the base and add your concentrates to the chamber. Replace the glass bubbler on the device and click the power button twice to activate the auto mode. Alternatively, you can hold the power button to initiate preheating and vapor production.
Tip: A small amount of wax goes a long way. Do not fill the entire chamber; it will ruin and flood the device.
HOW TO LOAD CARTRIDGES:
To use the device with an oil cartridge, remove the glass bubbler from the battery and screw the cartridge into the 510 threading connection on the battery. Then, place the glass bubbler back on the device. Click the power button 3 times to adjust the voltage to your desired level. Click the power button twice to activate the auto mode or press and hold down the power button to heat and begin vapor production. To stop auto mode, press the power button once. Once the bubbler is filled with vapor to your desired amount, remove the glass bubbler from the device and inhale.
HOW TO CHARGE:
It's essential to charge your unit correctly. Its initial charge should be between 1.5-2 hours. After that, avoid charging for more than two hours to prevent damage and preserve the battery lifespan.
A red light will turn on during the charging process until it is fully charged. When it is fully charged, the light will turn green.
HOW TO CLEAN:
To keep your glass bubbler clean, remove it from the device. Pour enough 99% isopropyl alcohol into the mouthpiece to fill it for about a quarter. Swirl the alcohol around to loosen any buildup, dump it out and rinse the bubbler with water. Shake it gently and blow through the mouthpiece to remove any excess water. For other accessories, use an alcohol-soaked cotton swab to remove any residue.
What's Included:
(1) Wulf Mods Fang 2-in-1 Vaporizer
(1) Ceramic Atomizer
(1) Glass Bubbler
(1) Cleaning Brush
(1) Pick Tool
(5) Q-Tips
(1) Type-C Cable
(1) User Manual